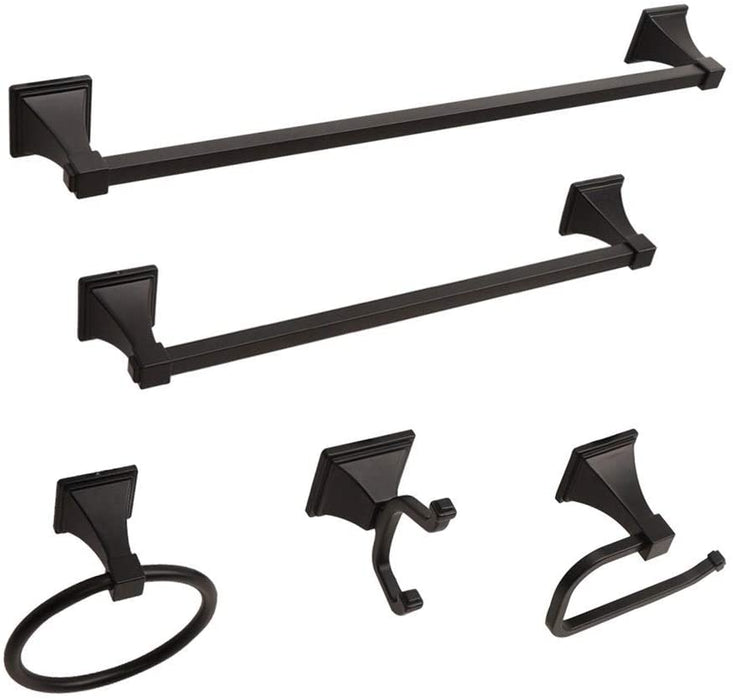 HomeBeyond Oil Rubbed Black/Brushed Gold Brass 5 Pieces Bathroom Hardware Set, Bath Accessory Kit, Include Towel Bar, Toilet Paper Holder, Robe Hook, and Towel Ring LF35-ORB/LF35-BGB
Original price
$37.49
-
Original price
$44.99
𝐁𝐀𝐓𝐇𝐑𝐎𝐎𝐌 𝐀𝐂𝐂𝐄𝐒𝐒𝐎𝐑𝐈𝐄𝐒: This 5-piece bathroom set includes a 24 inches wall mounted towel bar, 18 inches wall mounted towel bar, wall mounted toilet paper holder, wall mounted towel ring and wall-mounted towel hook/robe
𝐏𝐄𝐑𝐅𝐄𝐂𝐓 𝐅𝐎𝐑 𝐀𝐍𝐘 𝐏𝐋𝐀𝐂𝐄: You can use the towel bars and robe hook in your kitchen, bedroom, bathroom, or closets. They are particularly strong and stable, making your home more tidy, beautiful, and modern
𝐄𝐀𝐒𝐘 𝐓𝐎 𝐈𝐍𝐒𝐓𝐀𝐋𝐋: This 5 pieces kit comes with all the screw accessories and an installation manual. All screws and anchors provided are of good quality and the screws are concealed giving it a more clean and attractive look
𝐒𝐌𝐎𝐎𝐓𝐇 𝐒𝐔𝐑𝐅𝐀𝐂𝐄: Oil rubbed black or brushed gold brass by multiple processes, making it seamless and smooth will not hurt your clothes. No sharp edges, safely hang a bathrobe, bath towel, pants and shirt, swimsuits, coats, bags, shower caddy, or other stuff
𝐒𝐓𝐘𝐋𝐄 𝐀𝐍𝐃 𝐅𝐈𝐍𝐈𝐒𝐇: Discover the beauty of simple, clean lines with this casual bath hardware collection. Available in oil rubbed bronze black or brushed gold brass finishes
Colorful and brilliant match. Spirited shape designs are extremely enjoyable. The perfect and meticulous work of the design is sturdy and refined. Space is more colorful. Features 1, 5-Piece bath hardware combination 2, Mounting hardware included 3, Set includes 24" towel bars,18" towel bars, towel ring, toilet paper holder and a robe/wall hook 4, Zinc alloy and aluminum construction 5, Easy to install and long-lasting durability.
Features:
Hardware Included: Bath shelf; Toilet paper holder; Towel bar; Towel ring; Towel/Robe hook
Primary Material: Metal
Finish: Oil Rubbed Black, Brushed Gold Brass
Pieces Included: 24" Towel bars, 18" Towel Bars, Towel ring, Toilet paper holder, and Robe/Wall hook
Mounting Hardware Included: Yes
Supplier Intended and Approved Use: Residential Use
Installation Required: Yes
Commercial Warranty: No
Product Warranty: Yes
Full or Limited Warranty: Limited
Country of Origin: China
Weights & Dimensions:
Toilet Paper Holder
Towel Bar
Length - Side to Side: 24"
Diameter: 0.75"
Towel Ring
Other Dimensions
Toilet Paper Holder: 3" H x 5.4" W
Towel Ring: 7" H x 3" W
Towel/Robe: 3" H x 3" W x 0.75" D
Overall Product Weight: 4.9 lb.