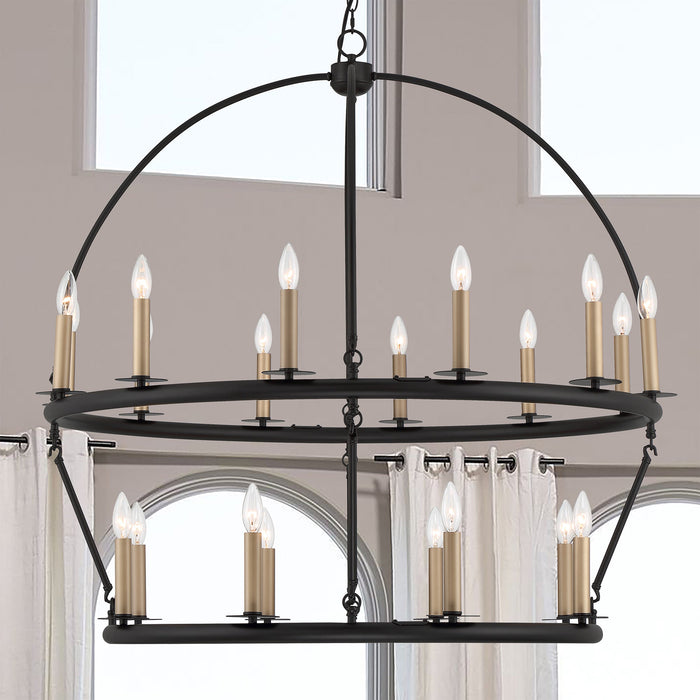 20 Lights Wagon Wheel Chandelier Lighting in Classic Black
Original price
$539.99
-
Original price
$539.99
Modern 2 Tiered Hanging Light Farmhouse Candle Style Ceiling Light Fixtures for Living Room Dining Room MLT1220BK-BD
𝐋𝐀𝐑𝐆𝐄 𝐅𝐀𝐑𝐌𝐇𝐎𝐔𝐒𝐄 𝐑𝐔𝐒𝐓𝐈𝐂 𝐂𝐇𝐀𝐍𝐃𝐄𝐋𝐈𝐄𝐑: The 20-lights design provides 360°light coverage that's soft, warm, and not overpowering, making a perfect addition to dining areas or front door entryways
𝐖𝐈𝐃𝐄 𝐀𝐏𝐏𝐋𝐈𝐂𝐀𝐓𝐈𝐎𝐍: our modern 2 tiered wagon wheel chandelier lighting design will never be outdated, add more fashion elements to your house perfectly fit for kitchen island, dining room, restaurant, bedroom, living room, bar counter, etc
𝐋𝐈𝐆𝐇𝐓 𝐖𝐄𝐈𝐆𝐇𝐓 𝐀𝐍𝐃 𝐃𝐔𝐑𝐀𝐁𝐋𝐄: Our modern candle style hanging light is made of high-quality metal, which enables the light fixture to keep its stylish looking for years, no worries about the color fade or aging, you can use it for years without any problem
𝐂𝐎𝐌𝐏𝐀𝐓𝐈𝐁𝐋𝐄 𝐖𝐈𝐓𝐇 𝐄𝟭𝟮 𝐋𝐈𝐆𝐇𝐓 𝐁𝐔𝐋𝐁𝐒: The wagon wheel farmhouse light fixture comes with a standard E12 socket (bulb not included), allowing you to decorate your living space freely by pairing it with medium base light bulbs
𝐄𝐀𝐒𝐘 𝐈𝐍𝐒𝐓𝐀𝐋𝐋𝐀𝐓𝐈𝐎𝐍: All mounting hardware is included in the package to save you the hassle of finding compatible accessories. It also comes with a user manual showing steps of assembling the light fixture and mounting light to the wall
𝐒𝐀𝐓𝐈𝐒𝐅𝐀𝐂𝐓𝐈𝐎𝐍 𝐆𝐔𝐀𝐑𝐀𝐍𝐓𝐄𝐄: 100% satisfaction and returnable your satisfaction is our top priority. If you have a problem with a transaction, just let us know and we will work with you to resolve the issue
This two-tiered chandelier combines farmhouse and modern design. It is made by the fusion of two metal half-ring outer frames and two-tiered wheel chandelier holders, which are suitable for large spaces and can illuminate the entire area. The unique frame design conveys subtle exquisiteness, whether it is placed in the living room or hung in the other room, it will definitely attract people's attention. This double-layer wagon wheel chandelier is the latest product. There are 20 bulb bases in total, and each lamp holder can accommodate a bulb with a maximum of 60W(bulbs are not included). It can be hung even in larger rooms with high ceilings. Two years warranty is included.
Specifications:
Style: Modern & Contemporary

Material: Metal

Finish: Classic Black+Brass Dust

Color: Classic Black+Brass Dust

Number of Lights: 20

Number of Tiered: 2

Shade Material: Glass

Light Direction: Up Light

Power Source: Hardwired

Sloped Ceiling Adaptable

Purposeful Distressing Type: Distressed Metal

Dimmable: Yes

Dry Location

UL Listed: Yes

Type of Bulb: LED

Wattage: 60 Watts

Bulb: Not included

Warranty: 2 years
Dimensions & Weights:
Overall Dimensions: 41.34" W x 41.34" D x 40.09" H

Item Weight: 24.89lb

Chain Length: 98.43"

Extension: 118.11"

Back Plate: 5.35" W x 5.35" D x 1.38" H

Max. Hanging Height: 139.89"

Min. Hanging Height: 44.22"