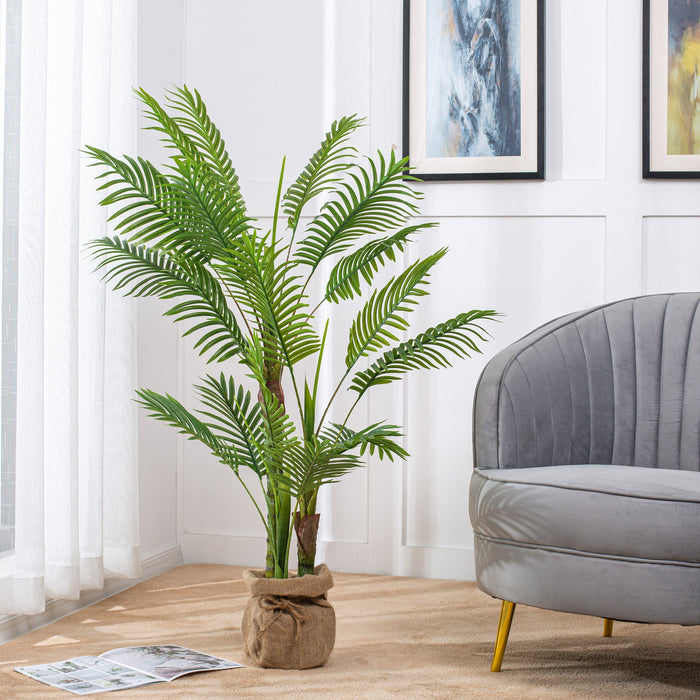 Vanity Art 50.39-inches Artificial Palm Plant in Planter | Stems Real Touch Artificial Faux Trees, Large Faux Potted Tropical Plant for Indoor or Outdoor Decoration, MLTGP-3319GR, (Set of 2)
Original price
$199.00
-
Original price
$199.00
𝗥𝗘𝗔𝗟𝗜𝗦𝗧𝗜𝗖 𝗗𝗘𝗦𝗜𝗚𝗡: These unique and eye-catching Phalaenopsis Orchids are designed to look authentic. You can easily fall for the flowers due to the overall presentation of the flower decoration
𝐁𝐔𝐈𝐋𝐃 𝐌𝐀𝐓𝐄𝐑𝐈𝐀𝐋: The whole home decor set is made from top-quality materials that let the flower pot be long-lasting. The flowers are all made from plastic materials whereas the pot is made from a cement material
𝐂𝐎𝐌𝐏𝐀𝐂𝐓 𝐒𝐈𝐙𝐈𝐍𝐆: These beautiful decorative artificial palm plants have a total size of 50.39" x 41.34" x 30.71". This allows you to easily set up the decor anywhere you want
𝐁𝐄𝐀𝐔𝐓𝐈𝐅𝐔𝐋 𝐃𝐄𝐂𝐎𝐑𝐀𝐓𝐈𝐎𝐍: You can easily use this amazing flower pot home decor on the bookshelf, dining table, bedroom, study room, and more. Make your living environment lively and stylish
𝗦𝗔𝗧𝗜𝗦𝗙𝗔𝗖𝗧𝗜𝗢𝗡 𝗚𝗨𝗔𝗥𝗔𝗡𝗧𝗘𝗘: 100% satisfaction guarantee and returnable satisfaction are our top priority. If you have a problem with a transaction, just let us know and we will work with you to resolve the issue
This unique artificial palm potted plant easily blends sophistication and a tropical atmosphere, adding a touch of green charm to your space without requiring maintenance. With vibrant green as the dominant hue, the lush foliage and sturdy branches look vibrant and bring life-like charm to any of your spaces. With a height of 50.39 inches, it can be placed in the living room, entrance, or the empty corner of the office. For even more fun, you can use some wreaths, streamers, and sparkling lights for a festive look. It is so easy to keep clean. If they happen to get a little dusty, simply wipe them with a damp cloth or duster. Two pieces are sold as a set, and two years warranty is included.
Specification:
Plant Type: Artificial
Plant Species: Palm
Plant Material: Plastic
Plant Color: Green
Container Included: Yes
Container Color: Black
Container Type: Pot
Container Material: Plastic
Number of Flowers Included: 3
Overall Dimension (HxWxD): 50.39" x 41.34" x 30.71"