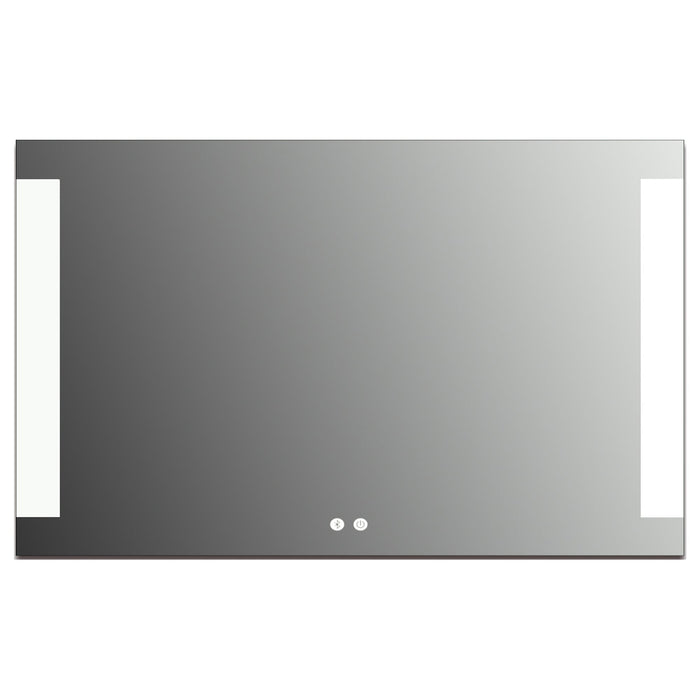 Large LED Lighted Bathroom Vanity Wall Mirror with Dual Touch Sensor and Bluetooth
Original price
$284.55
-
Original price
$432.30
Rectangular Shape Frameless Wall Mounted Makeup Mirror with Adjustable LED Light VA76B36/40/48/60
𝐃𝐎𝐔𝐁𝐋𝐄 𝐋𝐈𝐆𝐇𝐓𝐒 𝐀𝐍𝐃 𝐒𝐔𝐏𝐄𝐑 𝐁𝐑𝐈𝐆𝐇: With built-in LED strip lights, LED lighted bathroom mirror gives out twice the lighting, both from backsides and front. The lighting mirrors are bright enough for makeup or shaving or beauty care

𝐀𝐃𝐉𝐔𝐒𝐓𝐀𝐁𝐋𝐄 𝐂𝐎𝐌𝐅𝐎𝐑𝐓𝐀𝐁𝐋𝐄 𝐋𝐈𝐆𝐇𝐓𝐈𝐍𝐆: Color temperature 3500~6500K illuminates. This product's lumen of each LED is up to 10lm, which simulates natural sunlight and provides comfortable visual lighting. So your eyes won't get hurt even focusing on makeup or dressing for a long time

𝐋𝐎𝐍𝐆 𝐋𝐈𝐅𝐄𝐓𝐈𝐌𝐄 𝐀𝐍𝐃 𝐄𝐍𝐄𝐑𝐆𝐘 𝐒𝐀𝐕𝐈𝐍𝐆: This 50K hours energy-efficient LED mirror lighting use 80% less energy than standard light bulbs used other Led mirror, input 110-120V, 50/60HZ. It can be installed vertically or horizontally with the included accessories

𝐄𝐀𝐒𝐘 𝐈𝐍𝐒𝐓𝐀𝐋𝐋𝐀𝐓𝐈𝐎𝐍: All mounting hardware is included in the package to save you the hassle of finding compatible accessories. It also comes with a user manual showing steps of assembling the touch sensor switch led mirror to the wall

𝐒𝐀𝐓𝐈𝐒𝐅𝐀𝐂𝐓𝐈𝐎𝐍 𝐆𝐔𝐀𝐑𝐀𝐍𝐓𝐄𝐄: 100% satisfaction and returnable your satisfaction is our top priority. If you have a problem with a transaction, just let us know and we will work with you to resolve the issue
Elevates the decor of your space with this sleek and elegant, frameless LED Mirror. The mirror comes with integrated 3500~6500K LED lights that provide excellent visibility and consume low power. Also, its flat design prevents image distortion and reflects visuals accurately. It is designed vertically or horizontally oriented. Adjust the brightness to your ideal setting. The built-in dual touch sensor switch and Bluetooth provides warm, cool, and natural light options. The vanity mirror comes with a one-year manufacturer warranty.
Specification:
Product Type: Wall mirror
Mount type: Wall-mounted
Color: Clear
Material: Glass
Mirror shape: Rectangular
Orientation: Horizontal
Product Features: Includes hardware
Density: 120/m
Power/LED: 0.23W
Power Consumption: 18W
Total Lumen: 1560lm
Total LED length: 2 x 0.65m
Lumen each LED 10lm
Color temperature 3500~6500K
The lifespan of LED lights is 50K hours
LED for each mirror 156 beads
Built-in dual touch sensor and Bluetooth
Warranty: 1 Year
Country of Origin: China
Weights & Dimensions:
Dimension 1: 36" H x 28" W x 1" D; Weight: 26 lb
Dimension 2: 40" H x 28" W x 1" D; Weight: 27 lb
Dimension 3: 48" H x 28" W x 1" D; Weight: 32 lb
Dimension 4: 60" H x 28" W x 1" D; Weight: 37 lb
LED Installation Guideline PDF -40"
LED Installation Guideline PDF -48"